Indian varied culture has gifted the capital city with many religious places. Delhi is famous for its various cultural temples that are beautifully designed by architecture. These elegant Hindu Temples Delhi will make your visit most memorable.
There are many large temples beautiful residing on several acres of land where thousands of people visit every year. Each temple has its significance belonging to Jain, Hindu, and Buddhist temples, along with some different shrines with different beliefs. Have a look at some best temples in Delhi because they are part of Indian history and culture.
Here we have compiled Delhi temples list for you to visit once you visit Delhi surely.
1. Akshardham Temple
Akshardham Temple is a sign of spirituality with the combination of exhibitions, gardens, and the temple of Lord Akshardham. This famous Temple in Delhi has around 200 Murtis that represent the lifestyle of the lord. This temple explains that the prayer we call and deceit is all about moving towards God.
It is an enriching experience to visit this place and to realize the power of prayers. Once you visit this temple, one is full of strength and highlights Hinduism. This Delhi temple opened in 2005 on 6th November. It took around 300,000,000 hours to construct this temple with the hard work of over 8,000 volunteers from around the world.
2. Bhairon Mandir
Also known as Prachin Bhairon Mandir, is one of the best temples in Delhi. Lord Shiva is believed to have many forms, and Bhairon is one among them. For Hindus, this New Delhi temple is the best pilgrimage center from all over India. The most exciting part of this temple is that liquor is given as Prasad to the visitors of this temple. You may not find this feature anywhere else.
Even many devotees bring national and international brands of liquor to offer it in front of God. The story behind the opening of Bhairon Mandir Delhi was that Goddess Durga killed one of the demons at this place. But his excellent nature saved him and cleared the sins he did in his past life. This man was fond of liquor, and so people devoted him.
3. Chhatarpur Mandir
Chhatarpur Mandir is famous for Goddess Katyayani that spreads on 70 acres of land. Baba Sant Nagpal Ji established this Hindu temple Delhi in 1974. It is the biggest temple in India and the largest in the world made from marble entirely. And on the facets, it has Jaali work all around. On the whole land, there are small and large 20 temples in the three different complexes.
Mata Katyayani is one of the forms of Durga Goddess that open for two times during Navratras in one year. There is one old tree situated at the entrance of the temple where people tie a knot to the holy thread for the accomplishment of their wishes. It is the biggest temple in Delhi.
4. Dada Dev Mandir
Dada Dev Mandir first established in 838 AD for paying tribute to Dada Dev Ji, who was believed to be one among incarnations of Shesh Naag. People used to seek blessings from him before they start a new work, go for marriage and venture.
Dada Dev Ji lived in Tonk District of Rajasthan and Jaidev, and Ramdev bought one stone from this district. When they were returning, the stone fell in the area and then a temple established at this place. Murti of Dada Dev Ji built on the Stone, and people believe that Dada Dev Ji spends most of the time sitting on this Shila. It is the oldest temple in Delhi.
5. Gauri Shankar Temple
Gauri Shankar is the famous Hindu Temple Delhi, which got established around 800 years ago. It located near to Digambar Jain Lal Mandir in Chandni Chownk Old Delhi. This temple was dedicated to Lord Shiva made from 800 years ago Phallus stone. Around this stone, snakes have been built made from silver.
There is one cosmic pillar in which people believed that it is the center of life. People thought that this temple was built by Apa Ganga Dhar, who was the biggest devotee of Lord Shiva. The temple underwent renovation in 1959, and today his name is engraved on the windows. It is the most famous temple in Delhi.
Hanuman Temple is the oldest temple in Delhi that resides in Connaught Place in Delhi. People claim that this temple is one of the most claimed temples of Mahabharata days. This temple has a manifest idol of Hanuman and locates on the bank of river Yamuna. It is believed that Pandavas built this temple with the entrance named Baba Kharak Singh Marg.
Below every painting of Shri Hanuman Ji maharaja, there is a script of Sundar Kand engraved on the marble pieces and attached to the walls. Also, the images of Ram, Sita, and Lakshman are embedded along with that of Krishna and Radha. Tuesdays and Saturdays are the special days on which most of the devotees visit this New Delhi temple from different parts of India
7. Hanuman Mandir, Jhandewalan
It is another most famous temple in Delhi dedicated to Shri Hanuman Ji Maharaj that has around 108 ft massive statue of Lord Hanuman. Entrance to the temple is an open mouth of Rakshas that reveals the story of the monsters whom Hanuman Ji killed in the service of Lord Rama.
At the base, there lies the temple of Goddess Kali, and she is also famous in the Hindu religion but with no appropriate recognition. Tuesdays every week get a massive crowd, but this temple remains open every day. This great Hindu Temple Delhi has attracted most of the devotees to visit it. While reciting the Aarti in the evening, Hanuman Ji moves his hands back to open up images of Lord Rama and Sita Mata in his chest.
ISKCON Temple is famous all around the world. It is the Vaishnav temple dedicated to Lord Krishna and Radha. This temple first opened for the devotees on 5 April in 1998 by the PM of India. This temple resides on Hare Krishna hills in New Delhi, India. This temple has many rooms for the priests and for the other people who serve God.
Halls on this Hindu Temple Delhi is for conducting seminars and divided into four sections. This temple is best for the visitors to know about Hindu texts shown in the best form using multimedia technology. Also, this temple is famous by the name of Radha Parthasarathi.
9. Kali Mandir
It is the famous temple complex and the cultural center of Chittaranjan Park in New Delhi. In 1973, for the first time, this temple was dedicated to Lord Shiva, but by 1984 the shrines of Goddess Kali and Krishna were added to this holy place. In this temple, an annual Durga Puja is conducted to make the moment memorable in the whole of India rather than only Bengal.
The famous temple in Delhi located on a small hill has a colony on its one end. Every year some special religious functions take place in this sacred place, and the prominent one is Durga Puja, where several Bengali's take part in it. It attracts a massive crowd every day.
10. Kalkaji Temple
Also known as Kalkaji Mandir, it is the most famous Hindu Temple Delhi to show respect to Goddess Kali. It is the renowned temple of Southern Delhi in Kalkaji even people believe that Goddess Kalka shrines back to Satya Yuga to the time when Goddess Kalika killed a giant demon Raktabija.
Temple got rejuvenate by Marathas after Aurangzebs destroyed it. It is the oldest temple in Delhi constructed before 1764 AD. When the temple went through other construction, many Hindu bankers built up Dharamshalas around it. Also, many Delhi Merchants took part in it. Today, this temple is made up of brick masonry and visited every day with a good crowd every year.
Also known as Birla Mandir, this famous temple of Delhi is dedicated to Laxminarayana to which usually calls Lord Vishnu. The builder of this temple is Jugal Kishore and Birla and inaugurated by Mahatama Gandhi. It took a whole six years to build this famous Hindu temple. It has side temples dedicated to Krishna, Shiva, and Buddha.
This New Delhi temple spread over 7.5 acres of land and also listed among the most significant temples of Delhi. Its famous Laxminarayana Temple is now a major attraction because of its beauty enhanced with fountains, extensive gardens, and shrines. Thousands of devotees visit this temple, especially during two festivals Diwali and Janamashtmi every year.
12. Lotus Temple
Lotus Temple is the house of worship first opened by the end of the year 1986. It is most famous for its looks, especially its flower-shaped structure, and so it has become the most crucial attraction of Delhi. Talking about the architecture, this famous temple in Delhi has 27 lotus petals made from marble that makes nine sides.
It means each side of the temple has three petals. To date, this beautiful temple of Delhi has won many awards for its architecture and went gaining popularity through newspapers and magazines. It is the Bahai House of Worship where people following different religions can gather here and worship their religion.
13. Mangal Mahadeva Birla Kanan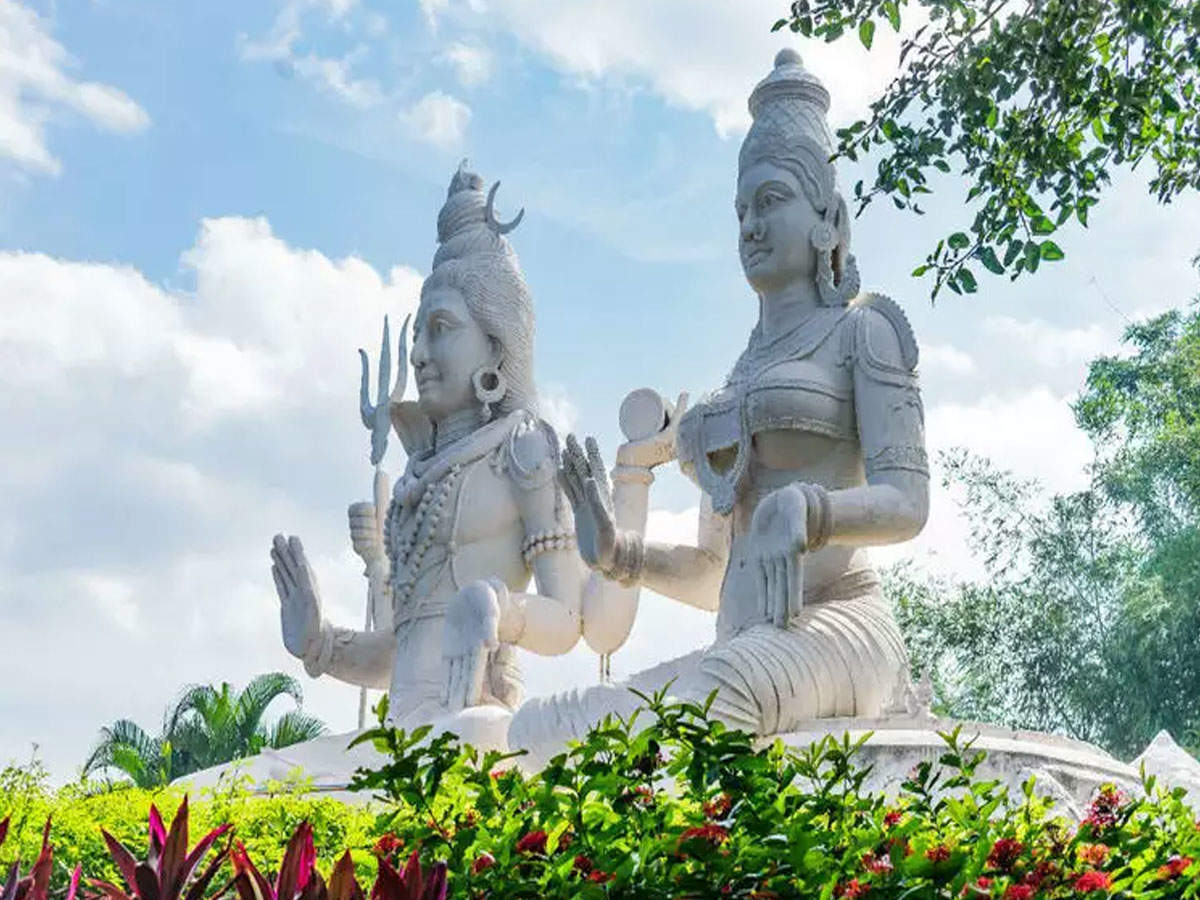 Mangal Mahadev is the famous Hindu temple Delhi that resides in Shivaji Marg, New Delhi. This temple is dedicated to Lord Shiva and the other Deities, which is built over 200 acres of land. People enjoy immense peace when they enter this beautiful place, and it goes from Delhi to Gurgaon National Highway 8.
While passing through National Highway 8, people can easily find an idol of Lord Shiva. This statue is around 100 ft high and has many other temples inside, including a home for Parvati Mata, Nandi Bull, Kartikeya, Radha Krishna, Sita Rama, and of course, Lord Ganesha. This temple is full of a spiritual atmosphere all around that gives peace of mind to the devotees visiting it.
14. Nili Chhatri Temple
According to the Hindu religion, the name Nili Chhatri is for the famous Lord Shiva. Nili Chhatri Temple is the most prominent temple of Delhi dedicated to Shiva. People believe that Pandava Prince Yudhishthira built this temple on Nigambodh Ghat that is right adjacent to the temple.
This temple resides in Yamuna Bazaar, an area that is close to Baharadur Shahi Gate that is even present today near to the banks of Yamuna River. Naubat Khana, who was the state official during the Akbar period, built Nili Chhatri Tomb in 1565. The name is so-called because of its tomb shade and stands in the mid of Purana Qila and tomb of Nizamuddin Auliya. This famous Temple in Delhi is built in several acres of land.
15. Sai Baba Temple
Sau Baba Temple is the oldest temple in Delhi that resides on Lodhi road and has modern style architecture. Along the roadside, many devotees from different parts of India visit to offer their Pranams to the great Lord. When you pass by Lodhi road, you can see the idol of Sai Baba from far away from building with the white marble.
Shri Sai Bhakt Samaj, formed in October 1968, look after this temple. There are many stairways to move inside the temple. From different parts of India, devotees visit this famous place every year, and on Thursday, they go with some unique program. People on every Thursday make a good gathering in the Temple.
16. Shani Dham
Shani Dham is the famous Temple in Delhi that has the world's most giant statue of Shani Dev. This temple resides on Chhatarpur road, which is around 6 kilometers away from Chhatarpur Temple. The trust that handles and look after this temple is Shree Shanidham Trust. It is a non-governmental and non-profit trust and an organization that works under the guidance of Shree Sidh Shakti Peeth.
Today, this temple and idol of Lord Shani is made from the natural rock and is 10 kilometers away from Qutub Minar. Shree Vibhushit Jagat Guru unveiled the idol of Shani Dev, and thus today, it has become the highest visited attraction by its devotees.
17. Shri Digambar Jain Lal Mandir
Shri Digambar Lal Mandir is the best known Temple in Delhi that resides in the Chandni Chownk area. This temple is also famous for veterinary hospital renowned as Jain Birds Hospital. This hospital is the second building behind the temple. Shri Digambar Jain Lal Mandir is located exactly opposite to the Red Fort at the intersection of Chandni Chownk and Netaji Subhas Marg. It is the oldest temple in Delhi.
This place was built by Shah Jahan, where he called several Aggarwal Jain merchants to stay at the site built with walls all around. The main area where devotees visit first is the first floor. In this area, a good range of Jainism books are available and visit this area after removing every leather goods they have.
18. Shri Jagannath Mandir
Shri Jagannath Temple welcomes every caste and religion followers to its area to seek blessings of Shree Jagannath. It does not matter what your birthplace or religion is, whosoever, visit in the temple, Lord Jagannath blesses him for the best life ahead.
This New Delhi Temple is the modern architectural temple built by Odisha community in Delhi for the lord. Annual Rathyatra festival takes place in this area Hauz Khas where this temple resides, and thousands of devotees from all over India visit this temple every year on this special occasion.
19. Uttara Swami Malai Mandir
Also popular as Malai Mandir, this is the famous temple in Delhi situates on Palam Marg. This temple is dedicated to Lord Swaminatha and taken care of by Hindus of Tamil and other South Indian community. This temple is the holy place of Lord Swaminatha that resides on a small hillock in the Sector-7 in South West Delhi.
There is one specific sign outside the temple written in the Tamil language as "Yaamirukka Bayamain," which means "Why fear when I am there?" this temple is entirely made up of granite material according to the Tamil Architecture.
20. Yogmaya Mandir
Yogmaya Temple is also known as Jogmaya Temple, dedicated to Hindu Lord Krishna's sister. It situates near Qutub Complex in Mehrauli, New Delhi. It is the only surviving temples from those 27 destroyed by Mahmud Ghazni. Yogmaya is considered to be an illusionary power of God, and also, it has become a venue for Navratri Celebrations.
Adjacent to this temple is one water body which is also known as Anangtal Boali. Trees surround all around this water body. As per belief, Pandavs built this temple with the end of Mahabharata. This famous Hindu Temple Delhi lies on 260 yards ranging from the Iron Pillar to Lal Kot Walls. This temple got rebuilt in the year 1827.
Conclusion
This Delhi Temple List would have undoubtedly helped you to make your visit even more exciting and easy. You should visit these places and know about their significance because these places are the best centers to offer your prayers to God, and your visit to Delhi would even help you to learn the history and culture of the proud Capital.